Ultra Rugged Handheld PC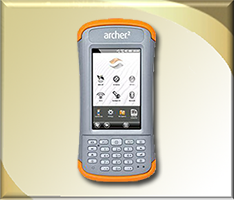 The Archer2 is an ultra-rugged field PC that is your reliable field companion. It is rock solid and field ready in the most extreme environments. The Archer 2 ultra rugged handheld PC for quick and efficient data collection in the harshest environments. Combine this rugged handheld PC with our livestock management software to create the perfect animal management system right on the site.
---
Recommended Sofrware for:
Feedlot, Dairy Ranch & Packers: FaST EID
For Veterinarian: FaST eCVI
For Equipment Monitoring: FaST Audit
For Auction Check-In: FaST Auction Check-In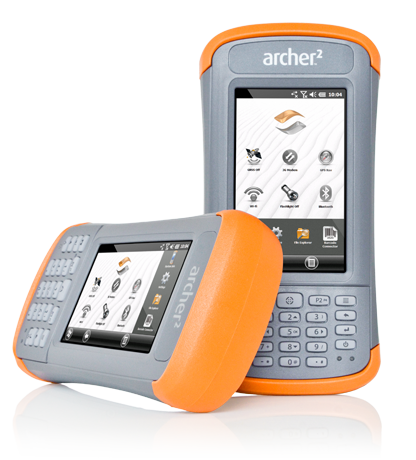 WHEREVER YOUR JOB TAKES YOU
From the hammer and anvil, the Archer 2 has emerged faster, smarter, and more sophisticated than ever before, claiming top spot among the most advanced rugged handhelds out there. Specifically designed to boost productivity and speed, the Archer 2 was made for professionals who don't have time to mess around. Rest assured knowing you can rely on the Archer 2 to help get the work done, wherever your job takes you.
The Archer 2 incorporates all the best things about the Archer and adds to them. Featuring a new IllumiView™ high-visibility display, the Archer 2 remains extraordinarily bright under even the most glaring sunlight. You'll love the responsiveness of its large, glove-friendly capacitive touchscreen and numeric keypad, allowing you to input data at unprecedented speeds. And for those work days that just seem to go on and on, you can trust that the Archer 2's custom Overtime Technology™ battery will get you through, no problem. Add to this the signature ruggedness that Juniper Systems is known for, and you have one mean data-collecting machine that you can rely on, wherever your job takes you.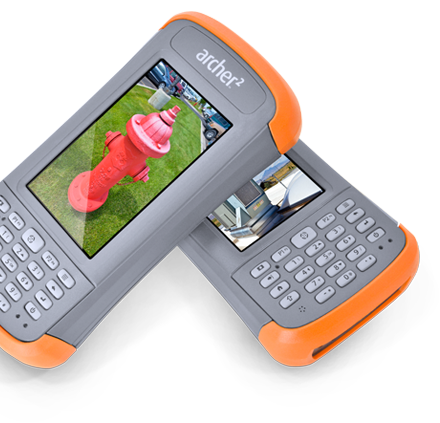 BETTER, WELL, EVERYTHING
That's right—the Archer 2 has improved on nearly every aspect imaginable. Beginning with its enlarged IllumiView high-visibility display, its brightness knocks people off their feet when they see it. And its capacitive touchscreen provides for needle-sharp imagery and outstanding durability.
The Archer 2 also has improved connectivity capabilities, including enhanced GNSS performance, improved photo and video capture, built-in 1D/2D barcode scanner, along with Bluetooth®, Wi-Fi®, cell modem, serial, and USB connectivity features. It's also available with CDMA for use on the Verizon Network. The Archer 2 is a force to be reckoned with, right down to its speedy 1.0GHz processor that runs it all.
JUNIPER RUGGED™
Built and tested to the most rigorous of standards, the Archer 2 was designed to be your reliable companion, wherever your job takes you. This tough handheld runs smoothly in everything from freezing cold to blistering heat. Carrying an IP68 rating and tested to MIL-STD-810G for water, humidity, sand and dust, vibration, altitude, shock, and temperature, the Archer 2 can handle just about anything you throw at it. We also have an Archer 2 Hazloc model available with Class I, II, & III, Division 2 certifications for hazardous locations. Visit the Archer 2's specifications tab for all the details on this rugged handheld computer.

OVERTIME TECHNOLOGY BATTERY
With all of its new features and capabilities, the Archer 2 deserves to be powered by only the best of batteries. That's why its battery source is built with custom Overtime Technology, lasting 20 hours and up on a full charge. With a battery as solid as that, you can stop worrying about your battery life and start focusing on the task at hand.
WE WANT YOU
Juniper Systems seeks to establish strong relationships with companies that offer total solutions to agriculture, natural resources, industry, geomatics, public works, and military markets. We offer high-quality rugged handheld computers with long-term reliability, excellent customer service, and unique product customization. If you're looking for a reliable, rugged handheld computer for your solution and a long-term business partner, contact us today.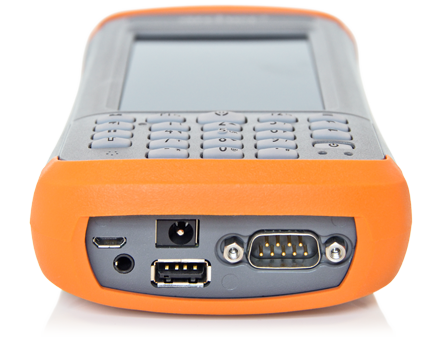 ARCHER 2 MODELS
Standard Model:
Wi-Fi & Bluetooth wireless technology
Geo Model:
Wi-Fi & Bluetooth wireless technology
GPS
5MP camera
Geo Cell Model:
Wi-Fi & Bluetooth wireless technology
GPS
5MP camera
3.75G GSM modem
Geo BC Model:
Wi-Fi & Bluetooth wireless technology
GPS
5MP camera
Barcode scanner
Geo Cell BC Model:
Wi-Fi & Bluetooth wireless technology
GPS
5MP camera
Barcode scanner
3.75G GSM modem
Hazloc Model:
Class I, II, & III, Division 2 certification for hazardous locations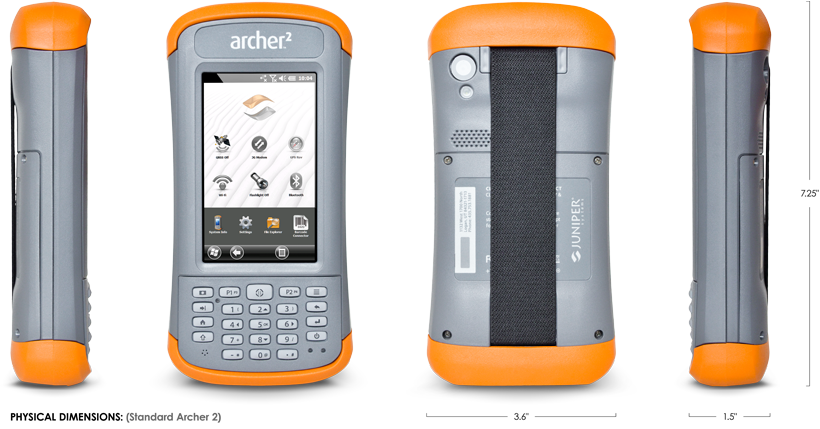 Archer 2 Specifications
PHYSICAL
Size, Standard models: 3.6″ w x 7.25″ l x 1.5″ d (91 mm x 184 mm x 38 mm)
Weight: 1.3 lbs (590 g)
Durable hardened plastic in a shear-proof and shock-resistant design
Strong chemical resistance
Comfortable, wide hand strap
Easy-to-grip, impact-absorbing bumpers, safety orange or tactical gray
POWER
Intelligent Li-Ion battery 3.7VDC @ 10600mAh, 38.7Whr
Operates for up to 20 hours on one charge
Charges in 2 to 4 hours
Battery easily changeable in field
Optimized for excellent performance in cold temperatures
PORTS
COM1, RS-232C 9-pin D connector with 5VDC power output
USB host (Full A), USB client (Micro B)
12, 24VDC input, 10-36V unregulated
3.5 mm audio jack, supports speaker/ microphone or stereo output (pin detect)
I/O module OEM configurable/customizable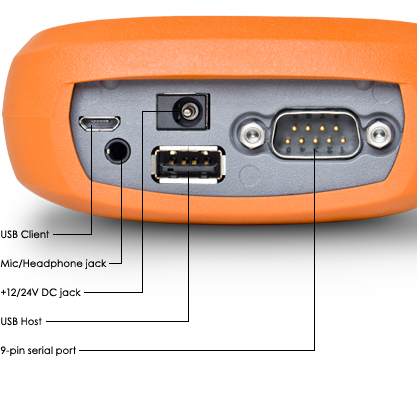 PROCESSOR
1.0GHz ARM Cortex A8 i.MX53 processor
OPERATING SYSTEM AND SOFTWARE
Microsoft® Windows Embedded Handheld 6.5.3
Microsoft Office Mobile 2010* (Word Mobile, Excel Mobile, PowerPoint Mobile, Outlook Mobile)
Multiple languages (English, French, Spanish, German, Portuguese)
MEMORY AND DATA STORAGE
512MB RAM
8GB flash storage
User-accessible micro SD/SDHC slot
DISPLAY
Active viewing area: 4.3″ (109 mm) WVGA LCD TFT (800×480)
High visibility backlit LCD
Portrait or landscape orientation
TOUCHSCREEN
Projected capacitive touch interface "optically bonded" to display for increased visibility
Chemically-strengthened glass
KEYBOARD
Adjustable LED backlit keys
Five-way directional navpad
Numeric keypad (6 user-reassignable)
OEM configurable/customizable
IP68 waterproof and dustproof
Operating temperature: -22F to 140F (-30C to 60C), Note: Bluetooth® wireless technology is rated to –4F (–20C)
Storage temperature: -22F to 158F (–30C to 70C)
Shockproof: multiple drops from 5′ (1.5 m) onto concrete
MIL-STD-810G test procedures: Method 500.5 Low Pressure (Altitude); Method 501.5 High Temperature; Method 502.5 Low Temperature; Method 503.5 Temperature Shock; Method 506.5 Rain; Method 507.5 Humidity; Method 510.5 Sand and Dust; Method 512.5 Immersion; Method 514.6 Vibration; Method 516.6 Shock
OptionalClass I, II, & III, Div 2 non-incendive rating for use in hazardous locations
WIRELESS CONNECTIVITY OPTIONS
Bluetooth® wireless technology, 2.1 +EDR, Class 1.5
Wi-Fi® 802.11b/g/n with extended range
CDMA technology for use on the Verizon Network
3.75G modem – Pentaband Worldwide (Geo 3G model only)
Frequencies: HSPA+/UMTS: 800/850/900/1800/1900/2100 MHz
Data communication interface
CAMERA (GEO MODELS)
5MP resolution with autofocus and LED Illuminator + video capture
Juniper Geotagging™: embed and emboss photo with date, time, and GPS position
GPS/GNSS (GEO MODELS):
High-sensitivity GPS/GLONASS/SBAS receiver
User settings for enhanced performance under canopy
Accuracy: SBAS 2 meters; autonomous: 5 meters
Post-processed accuracy: sub-meter
NMEA and BINR output
32 channel all-in-view tracking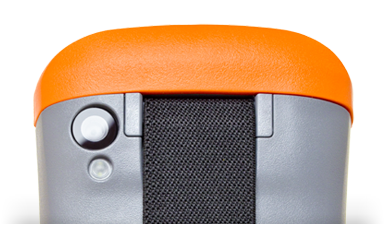 ARCHER 2 MODELS
Standard Model:
Wi-Fi® & Bluetooth® wireless technology
Geo Model:
Wi-Fi® & Bluetooth® wireless technology
GPS
5MP camera
Geo Cell Model:
Wi-Fi® & Bluetooth® wireless technology
GPS
5MP camera
3.75G GSM modem
Geo BC Model:
Wi-Fi® & Bluetooth® wireless technology
GPS
5MP camera
Barcode scanner
Geo Cell BC Model:
Wi-Fi® & Bluetooth® wireless technology
GPS
5MP camera
Barcode scanner
3.75G GSM modem
Hazloc Model:
Class I, II, & III, Division 2 certification
CERTIFICATIONS AND STANDARDS
All models of the Archer 2 must be certified and approved to be sold into individual countries.
FCC Class B
CE Marking (applicable EMC, R&TTE, and LVD directives)
Industry Canada
EN60950 Safety
OptionalClass I, II, & III, Division 2 for hazardous locations
STANDARD ACCESSORIES INCLUDED WITH THE ARCHER 2
10600mAh Battery
AC Wall Charger with International Plug Kit
Micro USB Client Sync Cable
Quick Start Guide
Ultra-wide Hand Strap
Shipping Box with Sleeve
Screwdriver
Capacitive Stylus with Tether
2-Year Warranty
OPTIONAL ACCESSORIES
8GB Micro SDHC
Capacitive Stylus with Tether Kit
Holster Case
Flip Cover Fitted Case
Ranching: With a portable electronic management system, you can now take the power of electronic management in the field to effectively manage and document events. Monitor breeding groups in large pastures from horseback, ATV or pickup with the same system that you Age & Source your calves with; record pregnancy test information and vaccination records and monitor saddle horse body temperature and identification.
Feedlot: Take advantage of electronic identification for management of incoming and outgoing livestock. Scan animals off the truck or place an electronic ear tag in each animal at processing and witness how easy it can be to manage all sizes of grouped animals.
Veterinarian inpetions: Disease testing is becoming more prevalent and the USDA has provided specific disease software programs for testing livestock. However, these programs have restricted use which limits the potential for electronic management outside of disease testing.
Dairy Ranch: Managing animals from multiple birth locations, keeping records on vaccinations or treatments applied at your facility, keeping track of movements in and out of your location, tracking paper slips around the office can all be a daunting task! Put your fears of electronic management to rest and start managing these calves on a reliable and accurate electronic management system.
Equipment Monitoring: By using an electronic marker, be it a passive EID tag, or a bar code number, you can easily track all information regarding any piece of equipment; from when it last went through maintenance to who checked on it last or any current work orders for that piece of machinery.
Auction Check-in: Having a mobile device to check in the auction animals provides real time identification and documentation as fast as the animals arrive. Additionally the brand inspection can be accuratly compleated with ease. these check can then be wirelessly transmited through out the auction yard to the office, while the inpections can be submitted to the state.
Roger Koberstein Koberstein Farms Holyoke, CO
"As spring came the unit was put to work one day during a snowstorm scanning calves as we were working them. The unit was sitting in a ½ inch of water and never quit working the whole time we worked those calves. The screen would get covered with snow and I just wiped it off and continued with my data entry…." (Read More)
"The FaST EID system worked very well as I was able to scan the tags and print a label out (actually 2 labels) before the carcass got to the station where the carcass tags were put on. I was actually able to get within 2 head on the label station and still do everything that was necessary and get the labels printed in time for them to be placed on the carcasses. This was done at a chain speed of 420 head per hour. It took us less than 10 minutes to do the 60 head of stock show animals…." (Read More)
Al Dustin Dept. Head-Farm/Ranch Business Management Bridgerland Applied Technology College Logan, UT
"The main things that I work with are those EID tags, electronic tags. In the 6,000 head that I've worked with, I have yet to lose an EID tag if it's placed correctly, placed at the base of the ear. So because of that it's more reliable than a bangs tag, that's much more reliable than a drop down floppy tag, and it's much more reliable than a managers…knowledge of the herd. So that EID tag becomes the basis of identifying everything that we're doing. So without the Archer and without the readers; I mean to be able to connect that EID number with that calf visual ID number, with that sample, with that mother, with that father, it just, I mean the EID is the basis of everything. I don't have anything that I know that can collect the EID and connect it with the samples in the same way…" (Read More)
Jose Ruiz Manager Dairy Calf Facilities Six Mile Dairy Boardman, OR
"I don`t have to use my old dead calves book anymore for record keeping. With ARCHER and FaST EID, I can keep all my data together. Inventory? The excel mobile contained in the ARCHER allows you to do anything you want. Connectivity? Build in Bluetooth connection makes your work comfortable without wires bugging you, just one tap and your scanner is connected ready to work in a free way…" (Read More)
STANDARD ACCESSORIES INCLUDED WITH THE ARCHER 2
10600mAh Lithium-Ion Battery
AC Wall Charger with International Plug Kit
Micro USB Client Sync Cable
Quick Start Guide
Ultra-wide Hand Strap
Capacitive Stylus & Tether
Shipping Box with Sleeve
2-Year Warranty
OPTIONAL ACCESSORIES
A2 Single Ethernet Dock Single slot power/charging and communications desktop dock. Includes ports for 12V power, USB Client, and 10/100-BaseT RJ-45 Ethernet. Includes USB-A to USB-B PC sync cable, and Archer 2/Allegro 2 adapter insert. Requires 22769 20W international power supply.
23406 8GB MicroSDHC The 8GB MicroSDHC Card provides additional storage for those projects that are extra data-heavy.
23456 Capacitive Stylus with Tether Kit The Capacitive Stylus with Tether Kit comes with 3 styluses and 3 nylon tethers.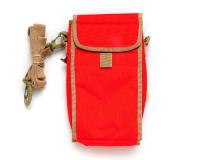 12867 Holster Case The Archer 2 Holster Case is built for top loading and is softly padded for comfort. This sturdy case has a Velcro flap closure, front cable storage pocket, belt loop, and adjustable shoulder strap. The case comes in high visibility safety orange for maximum visibility.