Y-Tex Visual Tags
Y-TEX All American® 2-piece tags come in 8 different styles and sizes and are available in up to 11 colors. The tags are made of an advanced polyurethane formulation and are engineered to prevent cracking, remain flexible and provide excellent longevity. The All American ear tag design features a Snap-Lok® collar for superior retention, a longer neck for greater visibility and ultraviolet inhibitors to resist fading. Available as standard or tamper-proof; blank, hot stamped, Digital or laser printed.
imprinted with the following information:
Colors: Red, Green & Black
AIN (15 digit 840 number)
US Shield
Unlawful to Remove
Y-TEX Logo
Optional Management number (Visual tag only)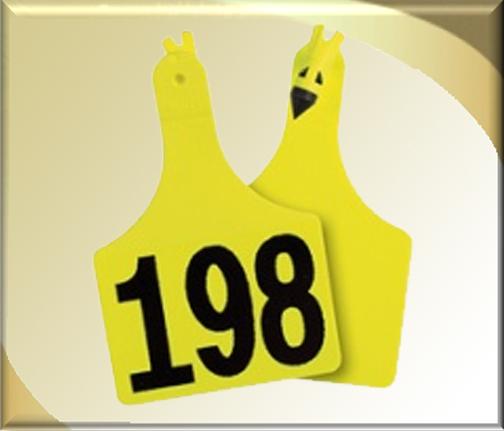 Allflex Visual Tags
The ATag™ Cow designed for long term application as a one piece option. It is self-piercing with a pinhole tip, which means faster healing and reduced animal stress. The ATag™ Cow has high retention, especially in thick eared animals due to a longer tag anchor. It also has a large surface area allowing for a wide range of marking options.
imprinted with the following information:
Colors: RED, YELLOW, GREEN, PINK, ORANGE, BLUE, PURPLE, WHITE & BLACK
AIN (15 digit 840 number)
US Shield
Unlawful to Remove
Y-TEX Logo
Optional Management number (Visual tag only)