Livestock Management Software
First of all our basic asset management fast EID software for use in all industries, especially livestock, or factory maintenance. FaST EID Livestock Management Software allows the association of a unique Electronic ID (EID) number. All assets are accounted for because each takes their identification from Barcodes and/or Radio Frequency ID (RFID) tags. There are as much as 18 customizable fields for data entry. Use the program as a calving notebook rather than the hand written method.
FaST EID Software can be purchased separately or bundled with a hand held PC from Fort Supply.
Purchase of software comes with perpetual license for 1 year from the date of purchase. Users can select the training and technical support plan that best suits their needs.
System Requirements
Windows Mobile 5 or 6 Operating System
Recommend 520 MHz Processor or Higher
Submersible to 1 m for 30 minutes
3.5″ Diagonal Screen
Recommend both Bluetooth and Serial Interfaces
Applications of FaST EID Software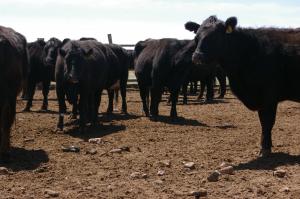 Intensive management records on breeding livestock are proven to yield greater profits because of ease of identification. The key to improving management records resides within each animal and accurately identifying and properly managing each animal. Electronic Livestock Management Software gives the producer a big edge when processing animals. The unique identification number or EID linked to multiple data fields in the system as a result helps identification.
Accurate Identification
Most often we make decisions on animals from memory but we are not exactly sure if the cow in the chute is the "old girl" that bummed her calf this summer or the one that looks just like her but brought in a 700 lb calf. While using an electronic identification ear tag and our livestock management software you'll know instantly which cow is in the chute and what to do with her based on her performance records.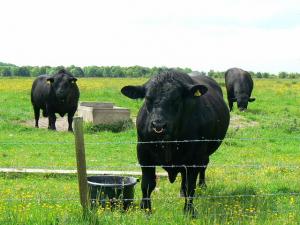 The Mobile Applications
Portable rugged PC systems allow you to easily take livestock management software in the field rather than lug around a pen and notebook. Effectively manage and document events while performing the actions documented. Monitor breeding groups in large pastures from horseback, ATV or pickup as a result of long range scanning. In addition to breeding the same system can manage Age & Source your calves, record pregnancy test information, vaccination records and saddle horse body temperature. Managing breeding groups is generally as easy as just closing the gates.
Long Term Information Recall
Not sure if bull 101 should be in with your first calf heifers? Quickly reference his visual ID from your bull database. Due to quick information recall, you know instantly if he has jumped the fence or the kids left the gate open. Record information on animals while out in the field. As a result this takes care of the identity of the bulls needed for culling in the fall. All information recorded exactly when they come through the chute. Document which bulls do more fighting than breeding. Consistently use the mobile system and consequently you'll have a database in the 80 day re-breed period. In conclusion you will know who to buy bulls from in years to come.
Roger Koberstein Koberstein Farms Holyoke, CO
"As spring came the unit was put to work one day during a snowstorm scanning calves as we were working them. The unit was sitting in a ½ inch of water and never quit working the whole time we worked those calves. The screen would get covered with snow and I just wiped it off and continued with my data entry…." (Read More)
"The FaST EID system worked very well as I was able to scan the tags and print a label out (actually 2 labels) before the carcass got to the station where the carcass tags were put on. I was actually able to get within 2 head on the label station and still do everything that was necessary and get the labels printed in time for them to be placed on the carcasses. This was done at a chain speed of 420 head per hour. It took us less than 10 minutes to do the 60 head of stock show animals…." (Read More)
Al Dustin Dept. Head-Farm/Ranch Business Management Bridgerland Applied Technology College Logan, UT
"The main things that I work with are those EID tags, electronic tags. In the 6,000 head that I've worked with, I have yet to lose an EID tag if it's placed correctly, placed at the base of the ear. So because of that it's more reliable than a bangs tag, that's much more reliable than a drop down floppy tag, and it's much more reliable than a managers…knowledge of the herd. So that EID tag becomes the basis of identifying everything that we're doing.
So without the Archer and without the readers; I mean to be able to connect that EID number with that calf visual ID number, with that sample, with that mother, with that father, it just, I mean the EID is the basis of everything. I don't have anything that I know that can collect the EID and connect it with the samples in the same way…" (Read More)
Jose Ruiz Manager Dairy Calf Facilities Six Mile Dairy Boardman, OR
"I don`t have to use my old dead calves book anymore for record keeping. With ARCHER and FaST EID Software, I can keep all my data together. Inventory? The excel mobile contained in the ARCHER allows you to do anything you want. Connectivity? Build in Bluetooth connection makes your work comfortable without wires bugging you, just one tap and your scanner is connected ready to work in a free way…" (Read More)