FaST Auction Check-In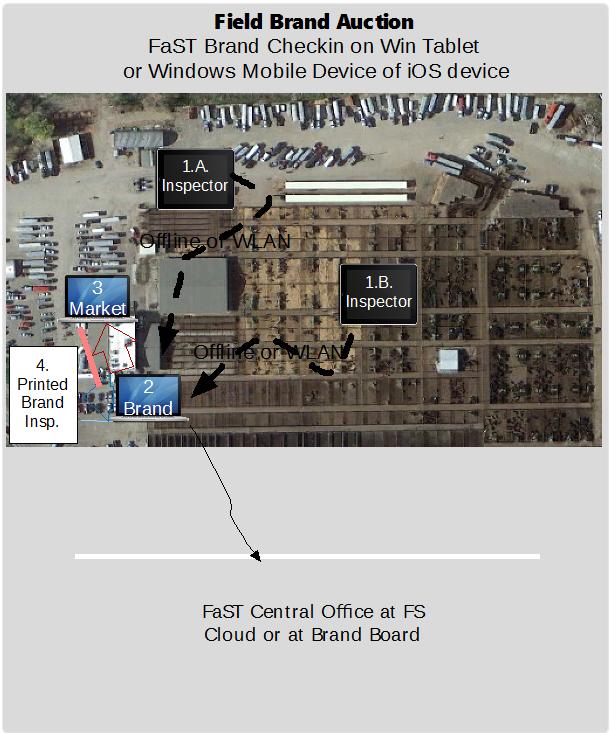 The following examples included in this section are examples of some of the key functionality. They are not meant to be a comprehensive walk though of all the functionality and all components or a training manual for FaST Brand Auction. FST would be happy to provide a full review of the full functionality either in an online conference or in person.
In 2012 and 2013, Fort Supply did a pilot project with the State of Idaho. This pilot project pointed out some key learning points for both the State and Fort Supply.
First, integration with the private market software as we attempted to do was full of issues. The Brand Inspectors and clerks were continually having to correct for issues or errors coming over from the market computer. It was frequent that the market would mislabel an animal as a steer for instance when it was really a heifer or other such mistakes. When that animal was being reconciled by the brand inspectors, they would have to correct the error coming over from the auction which took time and caused frustration. From this we have learned not to integrate with the Auction; purchase data is purchase data while regulatory data is only handled by inspectors.
Second, during the pilot project we (State and FST) thought that integrating Brand Inspection and Health Inspection would be a good idea to prove because of the success of doing both in Montana. However, on day one of training, we bluntly discovered that the vet (primarily his vet tech) flatly refused to participate. Since it was not mandatory, from the perspective of the veterinarian there was no need to tangle with his vet tech to enter the information and participate with the pilot project.
Since the pilot project, FaST Brand Auction has continued to evolve and turn into an even more mature program than when the pilot project was performed in Idaho. Over 30 auctions from Louisiana west to the Pacific are using FaST Auction software on a weekly basis for their inspection needs. Below are some examples and screenshots illustrating some of the functionality of this application.

The above Image shows a typical list of animals for a buyer and a scrollable list of buyers in FaST Brand Auction. The sale that is loaded is a horse sale out of Billings Livestock Auction from 2015. A key element that is shown here is that this is designed to work as a local web page from within a web browser. Tabs at the top allow the user to quickly move between any of the functions looking at the animals by seller, buyer or any one of the multitude of customizable reports that are available. Each user has their own login with specific user CRUD (Create, Read, Update and Delete) rights. Animals are laid out in an easy to view manner with information organized how the brand inspector or brand clerk wants it through customizable views.

The picture to the right shows a blowup of the screen and illustrates how the user can customize the view for the animals shown above. By clicking on the "Show/Hide column" button, any of the available data fields can be checked to be shown or unchecked to be hidden.
The picture to the left shows a blowup of some of the critical information from the picture above Note that EID's (form either UHF or LF tags) can also be collected, although in our experience Brand Inspection rarely collects EID tags. Note that EID's (form either UHF or LF tags) can also be collected, although in our experience Brand Inspection rarely collects EID tags.
The picture below illustrates the various quick search items that are available for an inspector to find an animal by during a sale.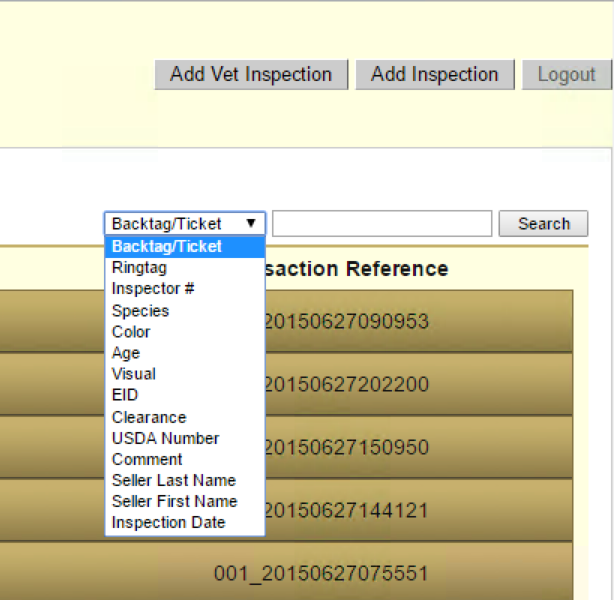 Applications of FaST Auction
To be updated shortly. Please Contact Us for more details