Efficient and quick Seedstock Collection right on the site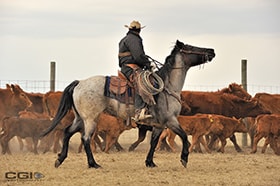 The Process: First of all, electronic ear tags (EID) go in the bulls managed under your system. While a wand or panel reader system scans the electronic ear tag they pass wirelessly to the hand held program (FaST EID). The bulls seedstock collection instantly populates the screen while providing visual confirmation of sire identity. Most noteworthy is the user saves the animal while manually initiating the Seedstock Collection procedure all over again.
Labeling: The bulls information transfers wirelessly to a ruggedized label printer rather than shouting instruction while writing it by hand. A timestamp on each label identifies multiple collections from a single sire rather than a single label from a single sire. Scan the barcodes for easy reference because of the Bulls Eye management system. Most of all the program has proven itself against hardy weather.
Roger Koberstein Koberstein Farms Holyoke, CO
"As spring came the unit was put to work one day during a snowstorm scanning calves as we were working them. The unit was sitting in a ½ inch of water and never quit working the whole time we worked those calves. The screen would get covered with snow and I just wiped it off and continued with my data entry…." (Read More)
"The FaST EID system worked very well as I was able to scan the tags and print a label out (actually 2 labels) before the carcass got to the station where the carcass tags were put on. I was actually able to get within 2 head on the label station and still do everything that was necessary and get the labels printed in time for them to be placed on the carcasses. This was done at a chain speed of 420 head per hour. It took us less than 10 minutes to do the 60 head of stock show animals…." (Read More)